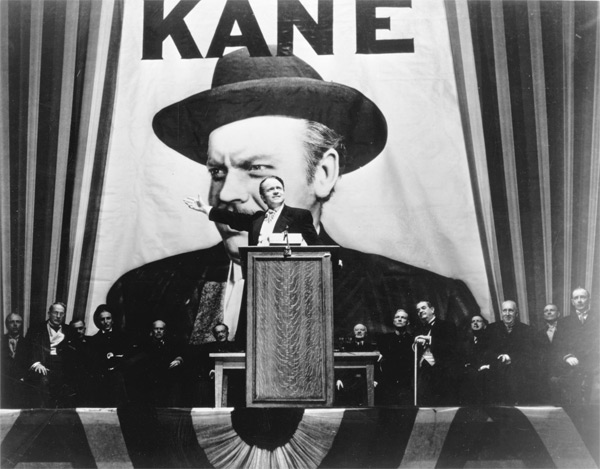 IF YOU'VE NEVER WATCHED CITIZEN KANE, now's a great time. According to
Slate's
Fred Kaplan, the new Blu-Ray DVD of Citizen Kane is superb:
In September 2008, I wrote a Slate column urging all film-lovers to go buy a Blu-ray player so they could watch the new digital restorations of The Godfather and The Godfather Part II in a format that looked—in clarity, color, and detail—remarkably close to the original 35 mm prints.
If you didn't take my suggestion then, it's time to reconsider. This week, the American film classic, Citizen Kane, comes out on Blu-ray, and the difference between this disc and any other version you've seen—on TCM, at a repertory movie theater, or on the DVD released nine years ago—is stunning.
This is the second time Kane has been digitized; in 2002 the first iteration was "overdone", and visually somewhat "brittle". This time 'round, three different source copies (the "master" has disappeared) were scanned at 4,000 dpi, sharp enough to preserve the film grain and character.
It's an amazing effort, and as more films get discovered in old filing cabinets and trunks, we may reacquire some lost treasures.
If you haven't seen it, or if it's been a long time, I truly recommend it if only to give some perspective to the cluster-fuck of American politics and the coming American Presidential election. What a story.