THE GENIE IS OUT OF THE BOTTLE with DNA, and Martin Lukacs, who posts on the
TRUE NORTH
blog created by
The Guardian
, is rightly concerned, with a post,
"Kickstarter must not fund biohackers' glow-in-the-dark plants"
about what is called
biohacking
, in this case, a Kickstarter effort to get fluorescent plants created. But the US Department of Agriculture says it's OK, so fasten your seatbelts.
Martin's right, but unfortunately, the genie is out of the bottle, no pun intended. Even if crowd-funding sites refuse "biohacking", the cost of engaging in it as a pastime has dropped and will continue, for precursor materials and equipment and computers. The future could be very funky . . . this is just about futzing with fluorescence.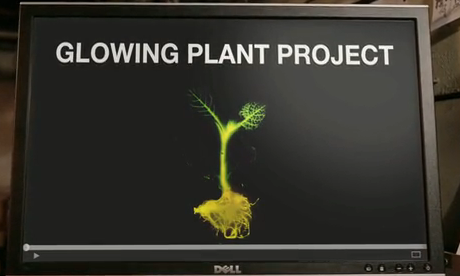 The Glowing Plant project is not the only foray into publicly available genetically modified organisms. Transgenic zebrafish (Danio rerio) that produce a fluorescent protein have been on the market since 2003, although their sale is not permitted in the European Union, Canada, Australia or California. And BioGlow, a commercial venture in St Louis, Missouri, informed the US agriculture department last year of plans to produce light-emitting plants, but the company has made few details public
.
Google is our friend, and voila! —

GloFish®

. Fluorescent fun for the whole family, I suppose. Like they exhort,

Experience the Glo!®

.
— Starfire Red® DANIOS by GloFish® —
— GloFish® TETRAS —